Our Belief: Meaningful, Lasting Operating and Financial Performance
Can Only Be Achieved Through Successful Culture & Effective Leadership
Kulturwandel
Erfahren Sie, wie sich Ihre Unternehmenskultur auf Ihre Geschäftsleistung auswirkt.
Entwicklung von Führungsqualitäten
Bewerten und coachen Sie Ihre Führungskräfte, um Leistung zu inspirieren und starke Kulturen aufzubauen.
PERFORMANCE IMPROVEMENT
& CHANGE MANAGEMENT
Leverage analytics, insights, and expert/data-driven professional services to realize results.
Denison Consulting's Next Era
Exciting Step in the Future of Denison Consulting: New Owners and Leaders Build On Denison's History of Culture and Leadership-Driven Performance Improvement.
Interagieren Sie mit den Denison-Tools:
The Denison Model
At the core of our approach is the Denison Model, which measures the 12 aspects of culture and leadership behavior most directly linked to performance.​ After 20 years of commercial use, it continues to be the industry's leading quantitative model with the strongest links to business performance outcomes – such as profitability, growth, innovation, customer satisfaction, employee engagement, and quality.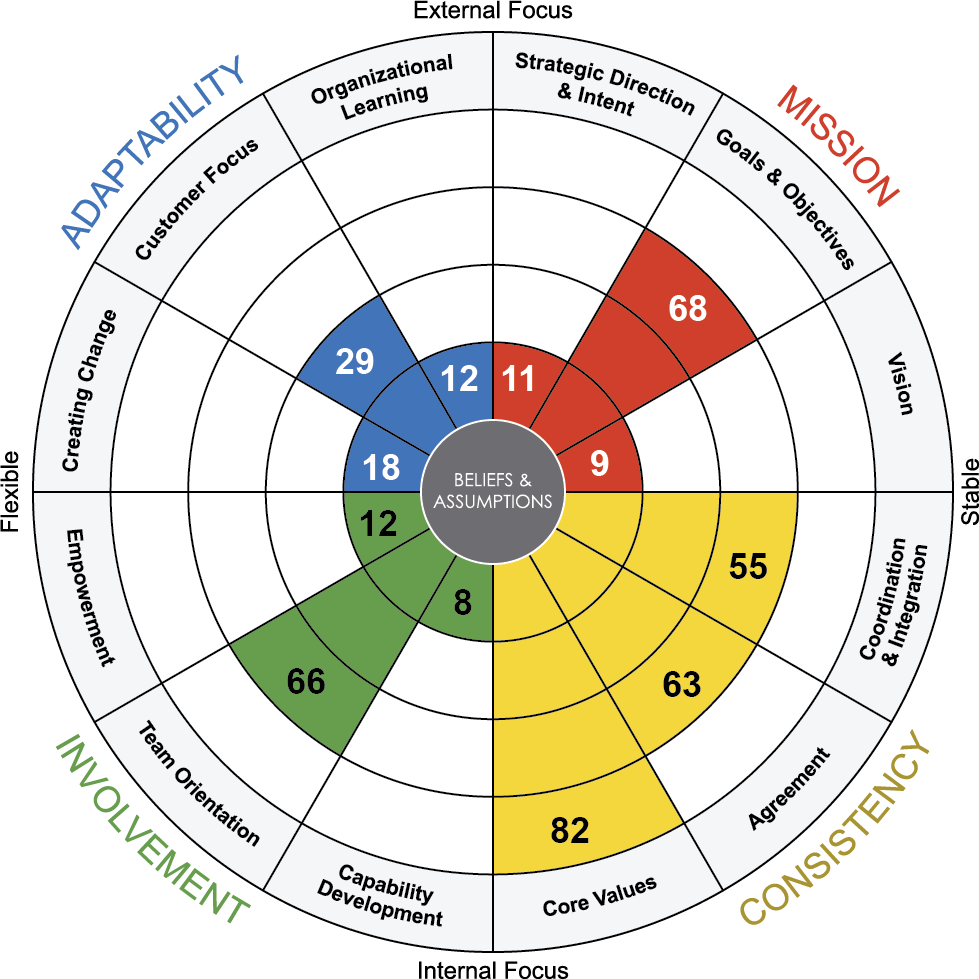 Mission
When the clarity regarding Goals & Objectives far exceeds the understanding of the Vision and Strategies, the organization excels at setting short-term priorities and tracking against those priorities. There is a risk of the work being more reactionary, and the workforce may have lost sight as to why the work is important and how near-term activity supports longer-term strategies. The focus is on the here and now, not the future.
Consistency
The Consistency trait shows up as a relative strength for the organization. There are a core set of values that are both understood and practiced. Employees believe that as problems and issues arise, those challenges will be discussed and an agreement reached regarding how best to proceed. Collaboration is valued as indicated by the above-average scores in Coordination & Integration, suggesting that silo behavior is not pervasive across the organization.
Involvement
Further evidence of the importance and appreciation for collaboration is reflected in the stronger scores in Team Orientation. Among the risks revealed are the ambiguity regarding empowerment and the belief that employee skills are neither invested in or valued. Teams become frustrated when they believe their ability to influence and execute work is constrained by a lack of appropriate skills and lower levels of empowerment.
Adaptability
In a world where the pace of change continues to intensify, this organization is at risk of losing sight of changes occurring in the business environment. Change is difficult to initiate and implement. The scores in Organizational Learning indicate that psychological safety is weak, resulting in fear of failures and mistakes. Customer wants and needs are unclear and the extent to which customer feedback is received and acted upon is also ambiguous.
The Path to High Performance
The Path to High Performance is Denison's client engagement process. This framework helps to create a robust cultural awareness, clarify the key operational priorities, facilitate thoughtful action, and improve performance. We have used this process as an outline for our proposal, which can be adapted based on your needs.​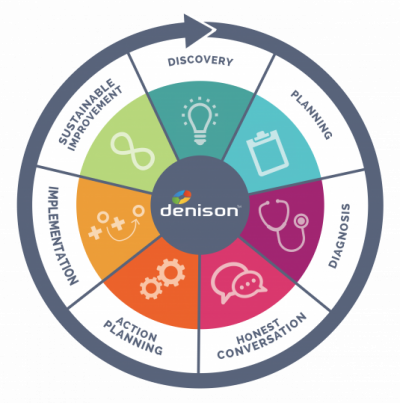 Discovery: Why is culture important to the performance of your organization?
Through dynamic and engaging sessions, Denison's experts draw out the intent and vision of your senior leaders and key stakeholders. With that information, our Senior Consultants align this critical group around a set of core objectives.
Planning: How can we ensure effective and sustainable culture development?
Our teams come together to develop a data collection, performance analytics, and post-assessment plan. We make sure that your team can effectively communicate the intent and details of the culture journey to other stakeholders.
Diagnosis: What is your current state?
Our team uncovers insights based on culture, leadership, and other data sources that can directly inform action. Denison's experts can help design the right analysis, generate insights, and recommend action to focus your resources on improving performance through data-driven decision-making.
Honest Conversation: How do we create common understanding?
With a clear picture of your leaders' objectives and the organization's culture, our Senior Consultants help create a common understanding of the cultural attributes supporting or impeding the execution of your strategy.
Action Planning: How do we translate results into thoughtful actions?
From there, we help your organization build a cross-functional, cross-level Culture Action Team. Through a facilitated workshop, we support this group to plan and implement actions that reinforce your strengths and address your gaps. Next, we help you clearly communicate the results and actions to your workforce.
Implementation: How are we executing the actions and what are we learning?
Our team provides dozens of tailored workshops and programs to further your cultural goals and address your cultural deficits. To help your leaders understand their impact on culture and performance, the online Denison Leadership 360 provides individual leaders with specific feedback. Our Virtual Coaching solutions help leaders change their behavior to better support the organization's effectiveness.
Sustainable Improvement: What is the impact?
Feedback loops and tracking mechanisms help you ensure your actions are having the desired impact. Our pulse solutions allow you to check-in with your workforce on progress and crowdsource ideas for improvement. Our long-term partnership ensures that your culture change journey will run smoothly and maintain its momentum.
Mehr als 10.000 Unternehmen haben Denison als Wegbereiter im Bereich Unternehmenskultur und Führung vertraut.